Hello, I am a game programmer with extensive experience in Unity and C#. I received a BFA in Computer Game Design and Minor in Computer Science from George Mason University. I have an aptitude for creating scalable and maintainable architectures, as well as gameplay mechanics. I also have experience creating 3D models and animations and shaders, and integrating all sorts of assets, and I have excellent communication skills, so I can work with anyone!.
A match-3 2D puzzle game made with the Unity3D game engine. Unlike most of the match-3 games out there, this one has the ability to generate cute gifs and send them to other people outside of the game.
A 2D isometric game where you play as a space-cat searching the galaxy trying to find the best milk for his sick father. Navigate through terrain, avoid obstacles, and solve puzzles to make it through each world!
Networking (Work In Progress)
Add some more info about this item...
A networking system for Unity I'm writing from scratch using .NET sockets.
CubeMaster (Work in Progress)
Add some more info about this item...
A 3D puzzle game where the goal is to fit all of the pieces into the black-outlined area.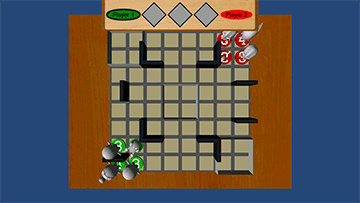 A digitalized turn-based tabletop game that can be played with 2-4 players locally in 2 different game modes. The first is a simple king-of-the-hill. Win by holding all 3 zones without your opponent occupying any. The second is much more complicated. Build your own army based on special unit stats. Win by decimating your opponent's army, or by occupying their zone.
Please reload